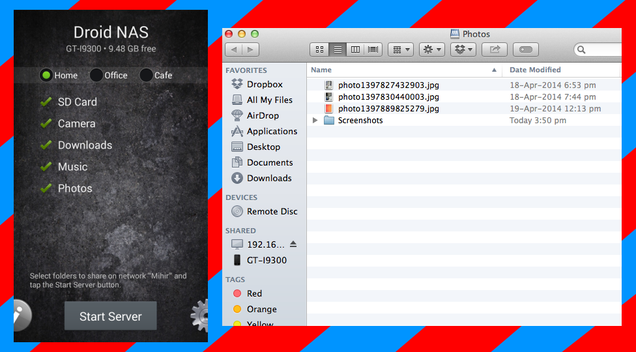 Android: If you have an Android device and a Mac, you need to download Droid NAS right now to make your life a whole lot easier. It's simple, it's fast, it works without cords, and it doesn't even need anything installed on the Mac.
All that you need is for Droid NAS to be installed on your Android device and it to be connected to the same Wi-Fi network as the Mac. Hit "Start Server" and in a few seconds, you'll get a message that Droid NAS is visible in Mac's Finder. And sure enough, if you open Finder, you'll find it connected as a device, ready to perform file transfers.
You can set different profiles to share different data, with the options toggling between SD card, camera, downloads, music and photos. Once you see it on your Mac, it's as simple as a regular file transfer.
See Full Story on lifehacker.com